The training center of the Tsuriman association was established in order to provide a comprehensive answer to youth living in the Golan. We are engaged in strengthening and empowering youth and children with the help of a number of projects we have established, and we see great importance in teaching and giving tools and a new benevolent language to those who work and/or raise children and youth, skills that will allow us to raise them in a way that will empower them and remind them of their power.
We can be the significant adults in their lives, the ones who give them a hand, who remember their strength and accompany them on their way to a beneficial and meaningful growth and development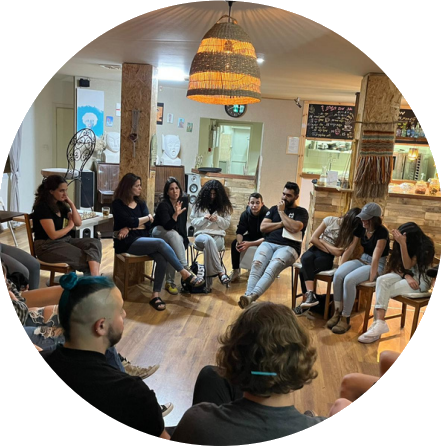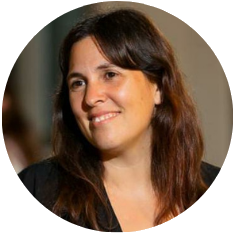 Ya'ara Solimani | founder and CEO
Social worker, as a specialist in field work With teenagers, I got to learn their language. After endless conversations with boys and girls and from many years of care work and workshops for teenagers, I understood that the youth needed Talk to a person who knows how to listen to him, who connects to him and who helps him discover himself from within A shared and deep process of inner clarity.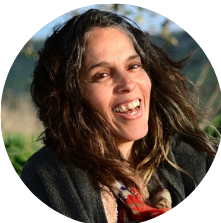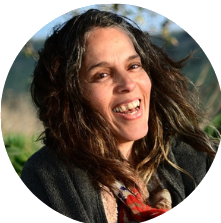 Shirley Gottfried Shinar | Coordinator of training and volunteers
Mind-body therapist for 25 years Accompanying and supporting people in the processes healing. Facilitates circles and workshops and teaches Tools for listening and moving from Inspiration. Loves to learn and explore The worlds of the mind, and give a hand to those who walk through.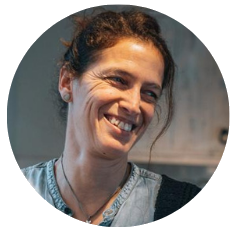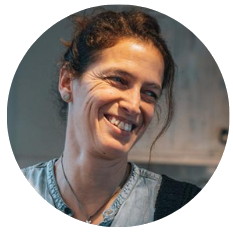 Michal Nasi | The manager of the cafe
integrative nutritionist, owner of the dining table studio A place for nutrition, people and food. I research (food), chop, Mixing and loving wine, people and food Works with children and youth in the garden and in the kitchen Conducts workshops and lectures. I believe in meeting the youth in the kitchen and what is long ago, Waiting for him every day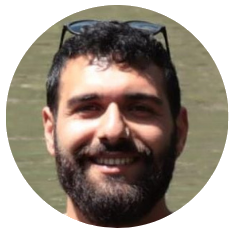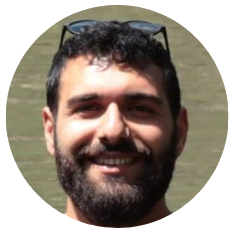 Yossi Gozlan | Youth Guide
I started working in education as a youth guide in the Golan, from there I continued to guide at a post-hospital boarding school. I believe that when we really listen to the youth we manage to reach them and identify their needs, they feel that they are seen and given space.
Training center of Tsuriman invites you to get to know a new language, skills and beneficial ways of meeting and working with children and teenagers.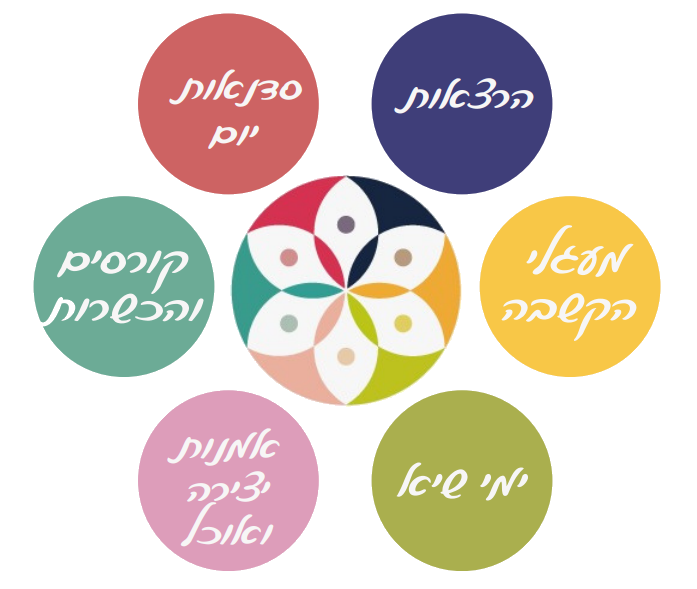 Parents
Education teams
Youth
Parents
Lectures
A road map for growth in the family space
Read the map correctly and heal our relationships with our children. With the help of a road map for growth in the family space -
understanding and mapping our deep requests and those of our children, we will learn how to become a change maker and change from a reactive, exhausted and guilty parent to a creative parent who paves a new path for himself and his family.
How to listen so they will talk and talk so they will listen
There is the language on the outside and the language on the inside - so what are they really asking for, how to listen so that they will speak and speak so that they will listen - from us our children and how can we recognize and listen to their deep needs so that they feel that someone sees them? In the lecture we will learn some significant tools with the help of which we will be able to listen deeply, beyond the visible words and behaviors and thus we will be able to create a renewed and meaningful connection of closeness and healing.
Grow together
From dream to reality - the story of the establishment of the association
Let's listen for a moment
Youth panel and staff - personal stories and an inspiring tour of the youth center and Leshevet Cafe
Our lectures come to you or to us at Leshvat Cafe with the option of a pampering meal made by the hands of the youth.
Day workshops
3-5 hours
From dream to reality
An experiential and empowering workshop on fulfillment. In the workshop we will go through an internal process and remember the dreams within us and learn how to start and nourish the seeds of the personal dream that we have built.
Listening, inclusion, connection, inspiration
Tools for the leading teacher/parent - an experiential workshop during which we will get to know and experience the most significant accompanying tools that can help us raise our children and create a healthy relationship with them.
The emotional map and deep requests of us and our children
What are those deep needs/requests that when they are heard the war ends and the healing begins? What is that map and how can it help us in the process.
courses and training
Inspirational parenting
Experiential learning course - (10 sessions - 3 hour session)
When we move in the world from a deep connection to our inner voice, we
act from inspiration. Movement from inspiration brings miracles to our world. Shouting, arguments, confusion, helplessness, what is true? What's wrong? This book
writes like this, it talks about education in a different way, the teacher says, the counselor advises,
the child just shouts and the girl who used to share with us shuts herself in the room
and God knows what goes through her and what she does all day in front of the phone? How the hell are we supposed to know what to do? In Ko's we will learn tools to create a benevolent reality in our home, with our children. We will understand how in the pressure cooker of life and all the "needs" that surround us,
attract our attention and drain our energy, we can find the
quiet place, the deep inner voice within us that remembers and knows what is good
for us and our family.
We will learn how to work with our inner compass, how to recognize the inner voice
br>And working with him, we will get to know the deep requests with which we came into the world and the healing map
that exists within us with the help of which we can connect to our strength and create significant and healthy close relationships with ourselves and our children again.
The course will have ample space to bring the difficulties from home and go through a healing process with them.
listening circles
(process group 10 sessions)
In a safe space, there is a place for all the challenges of raising children.
We will learn tools for deep listening (what are they really asking of us when they behave like this), inclusion (how to lend a hand without panicking), and connection so that we can move and communicate out of inspiration and turn difficulty into a new opportunity for deep connection In the circle there will be ample space to bring the difficulties from home and go through a healing process with them.
Education teams
Youth